Newsletter No. 214 August 24, 2016
Newsletter No. 214 August 24, 2016
Note: We are presenting in this posting an article by Christian Jürs, a specialist in German military documents. Mr. Jürs has a large collection of original military decoration documents and is currently preparing a heavily illustrated book on the subject. ADR
Wehrmacht and SS Orders and Decoration documents
by Christian Jürs
Called by the Germans 'Verleihungs-urkunden' or Presentation documents, when a member of the German military was presented with a decoration, he received a document attesting to this.
These documents were printed on paper and were usually 150×210 mm in size. The awardees name and unit were typed onto the paper (hand-lettered in some cases) and the document was signed by authorized personnel and most generally had the so-called 'Dienstsiegel' or unit stamp, on the lower left side.
It should be noted that original documents were always printed on paper which did not contain chemical whiteners and are non-reactive to an ultra-violet light (or black light). As paper whiteners were not used until 1951, any document purporting to be of an earlier date that reacts positively to the black light should be considered as not authentic.
We show here five sample original documents.
The first is a presentation paper for the Oakleaf to the Knights Cross. It is 150×210 mm. It is for a Sergeant in the 365 Grenadier Regiment. This was part of the 211 Infantry Division and the holder was in combat at Narew, in Russia, in 1944. The document is signed by General der Infantrie Wilhelm Burgdorf, head of the H.P.A. or Army Personnel Office.
The second document is a presentation paper for the award of the spange, or bar, to the 1914 Iron Cross 2nd Class. It is 150×210 mm. This was presented to Generalleutnant von Schenckendorff. The General was born on 24.2.75 and at the time of presentation was the Commanding Officer in Posen.
The third document is a presentation paper for the award of the U-Boat decoration. It is 210×296 mm. These were generally signed by Grand Admiral Donetz, commander of the U-Boat units.
The fourth document is a presentation paper for the award of the Combined Pilot and Observer badge of the German Luftwaffe. It is 150×210 mm. This is ink-signed by the head of the Luftwaffe personal office. This document never had an official stamp.
The fifth document is the official presentation paper for the award of the Guerrilla Warfare decoration in silver, presented to an SS man involved in the anti-Partisan campaign. It is 150×210 mm. There are a number of field-expedient documents for this decoration but the one shown here is the official issue.
To be continued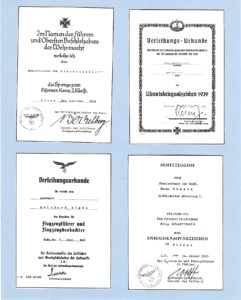 Top Left: Spange for 1914 EK II
Top Right: U-Boat badge
Bottom Left: Luftwaffe Combined Pilot/Observer badge
Bottom Right: SS Guerrilla Warfare badge