Newsletter No. 213 August 20, 2016
Newsletter No. 213 August 20, 2016
Here we have a picture of a German hunting sword offered for sale with attributions to the Imperial German Garde du Corps, an elite cavalry unit.
This is a custom made piece for a retiring officer and while it has the Imperial Guard star, it is not a copy of a sidearm used by any German cavalry unit. Here also are two pictures from the WKC period edged weapons catalog of 1910 that show the only two types of swords carried by the GdC. One is for field wear and the other, a degen, was worn for non-field dress.
Here also, are two pictures of German Third Reich fire department patches. One is for the Führerhauptquartier and the other for the Reichskanzeli. Both are modern fantasy pieces as there was no fire department assigned to either entity.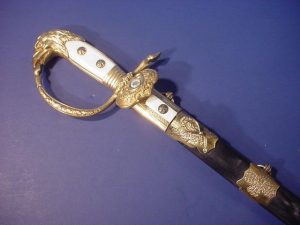 Imperial German Cuirassier Officer's field sword, worn by all Cavalry Officers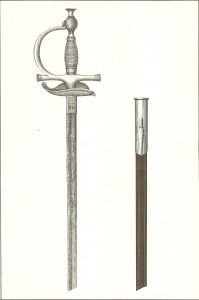 Imperial German Cuirassier Officer's Undress sword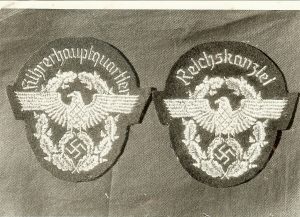 Fantasy German Fire Department sleeve insignia