Newsletter No. 230 November 6, 2016
Newsletter No. 230 November 6, 2016
Fraud among the High and Mighty
by Wilbur C Stump
There were three Großkreuze produced during the war by the Berlin firm of C.E. Juncker. One had a gold rim and was rejected by Hitler and two were given to Göring. But there was only one presentation document, presented to Hermann Göring by Adolf Hitler on 15.7.1940. The gold-tooled vellum document was contained in a lavishly produced cassette in Luftwaffe blue maroquinnerie with a hand-tooled fire gilt bordering inlaid with diamonds and rubies. The fire-gilded national eagle was similar in design to those on the Ritterkreuze cassettes but slightly larger and with a diamond-filled swastika. A period original series of full color pictures of the original document and case can be found in "Die Kunst im deutschen Reich"- 6. Jahrgang/Folge 10 of Oktober 1942, pps 254-255.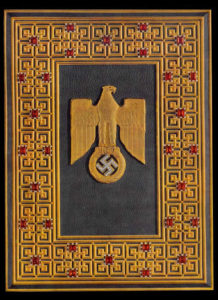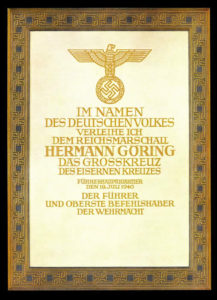 Original
Göring kept his award documents and citations in this special room at Carinhall, his hunting estate near Brandenburg, to the north-east of Berlin. Before Carinhall was blown up on Göring's orders on 28.4.1945, a Luftwaffe unit removed the Reichsmarschall's art collection as well as other valuables and personal possessions for transport to Berchtesgaden. His GK document was probably kept in this room. Göring also had a special cabinet in which he kept his orders and decorations. Like Hitler or any high-ranking official, he had several dress uniforms in each of his various residences and headquarters, enabling him to travel light. However, the suggestion that Göring had a dozen or two dozen Großkreuze is not based on any photographic evidence but rooted in the sort of deliberate misinformation spread by the dealer fraternity.
In November 2006, the author, and self-proclaimed expert, Dietrich Maerz published a photograph taken at that year's MAX Show of the GK cassette on the WAF. The cassette was displayed on the Wolfe-Hardin stand with an unrelated Großkreuz. Mr Maerz described the cassette as "covered with Luftwaffe blue maroquin leather, inside with ivory velvet. The decor is made of hand-finished gold. The stones are gold topaz and diamonds. It's a piece of art!".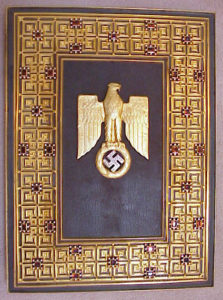 Reproduction
Later that year, another prominent American collector told fellow WAF members that he had tried, unsuccessfully, to buy the Hermann Göring Großkreuz document and cassette from Mr. Wolfe. Yet another collector stated that the cassette had been sold previously through the Munich auction house, Hermann Historica. The buzz was building but for students of the fakers' and scamsters' various modi operandi, a typical confidence game pattern emerged.
There were actually three Grand Cross documents in existence. The original is in the Luftwaffe Museum in Berlin while two post-war copies are in private collections. The one shown at the MAX show by Wolfe-Hardin was sold by them to Elmer Chen, an architect resident in Hong Kong. Mr. Chen, who poses as an Air Cathy Flight Captain, paid one million dollars for this piece. Mr. Chen also is the proud owner of the Doenitz dress Grand Admiral's baton, the original of which is still in a British Army museum where it has been since 1945.
A second post-war copy is now in the hands of one Yevgeny Stoltsov of the Russian Republic, who bought it from another American dealer, Charles Snyder,  for only five hundred thousand dollars.
Just recently, we received a copy of an email sent to Mr. Arthur Royster, whose website makes a point of exposing Third Reich fakes.
Here is a copy of it:
Date: Tue 7 Jul 2015 05:19:38 +0000
To: adroyster@hotmail.com
Subject: Counterfeit documents
From: sstatake@rediffmail.com
From your articles I know you are interested in German fakes. I am in the bookbinding business in India and that document for the German Grand Cross was made partially here in India and also a part in China.
The customer who had the case made was a person from a National Capitol Military company in Springfield, Virginia USA. I am regretful that their payment check was refused by the bank and to this day, we can get no satisfaction on this.
If you can find this person or give us information to assist us in recovering our money, we would most grateful!
Sincerely yours,
Sachin Tatakae
Thane, India
Who is National Capital (sic) Historical Sales? This is a firm run by one George A. Petersen of Georgetown, Virginia. At the time of this incident, his firm was located in Springfield, Virginia.
National Capital Historical Sales Inc
5810 Kingstowne Center # 120
Alexandria, VA 22315 –
38.775235 -77.135169 Phone: (703) 971-8535
George A. Petersen gpete2000@aol.com
The question arises as to whether Mr. Petersen had this item (and several others) made to deceive another dealer or whether he merely acted as a go-between as the agent for the eventual seller.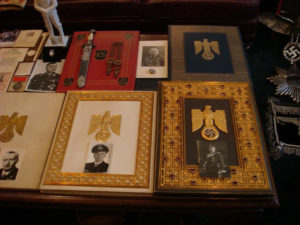 More reproduction items prepared in India and China