Newsletter No. 229 October 18, 2016
Newsletter No. 229 October 18, 2016
Note: We are presenting in this posting an article by Christian Jürs.. Mr. Jürs has a large collection of original German military decorations and is in the process of preparing a manuscript on the subject. ADR
The Jung-Kosaken-Abzeichen
This badge was instituted on 9. June, 1944 by the Commanding Officer of the XV Kavallerie Korps. There are extant two other badges, one for the Siberian Kosaken units and another for the 5. Don-Kosaken cavalry units but these are unit badges in the tradition of the tsarist era.
The Jung-Kosaken-Abzeichen is the only combat badge for Cossacks and is considered to be very rare.
It was manufactured in Zagreb and is found in three classes: bronze, silver and gold.
The badge is stamped out of sheet steel and had a thin pin on the reverse.
For those interested in the cossack units fighting with the Wehrmacht, I should recommend a book. This is "Pannwitz Cossacks 1942-1945" by de Lannoy, 2000 Heimdal. This is a book with French and English text and has many informative photographs and excellent color illustrations.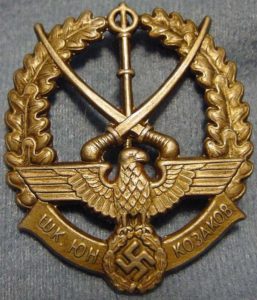 Jung-Kosaken-Abzeichen obverse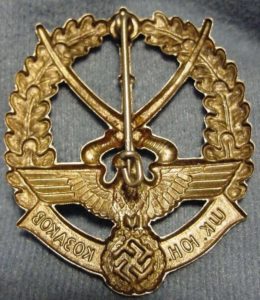 Jung-Kosaken Abzeichen reverse