Newsletter No. 224 September 26, 2016
Newsletter No. 224 September 26, 2016
Note: We are presenting in this posting an article by Christian Jürs.. Mr. Jürs has a large collection of original German military decoration documents and decorations and is currently preparing a heavily illustrated book on the subject. ADR
The Danzig Flak badge
This badge exists and is original to the period yet there is no mention of it in the official records. This, of course, upsets amateur collectors who are unable to make up their collective minds about whether or not it actually existed.
It did and over 200 of it were made and issued but not by the German Luftwaffe. It is a commemorative piece founded by Albert Forster, the NSDAP Gauleiter of Danzig. Although a personal commemorative decoration, it was authorized for wear by the units involved.
On July 11, 1939 as part of the German mobilization Flak-Abt. z.b.V "Danzig" was formed in Brüsterort (Samland) under the command of Luftwffe Major Giese.
The unit was formed from units of Flak Regiment 11 stationed at Koenigsberg.with volunteers who were born in the city of Danzig, specifically those who had been students and teachers at the Technische Hochschule Danzig.
In the summer of 1939 personnel belonging to the E-Messübungsstelle Göppingen was ordered to march towards Brüsterort in order to organize an anti-aircraft firing range in East Prussia. One Wachtmeister, one Uffz and six or seven Gefr., departed from Göppingen.
Their armament consisted of Skoda 75 mm guns and German guns Flak 30 of 2,0 cm. This Abteilung was motorized and provided air defense to the SS-Heimwehr Danzig in the September, 1939 battle to free Danzig from Polish control.,
This unit fought at Zoppot and then was involved with the conquest of Gdingen. In October 1939 it was absorbed by the Luftwaffe as Gem (mixed) Flak-Abt II./ 21 (Res)
The decoration was worn on the right breast pocket and was presented with a signed certificate by the Gauleiter.
Sources: groß. Nachlass Danzig-Polen 1939-Chronik + 60 org.Fotos! Domingo, 20 de Diciembre de 2009, 15:26:13
Die Geschichte der Deutschen Flakartillerie 1935-45. Horst Adalbert Koch.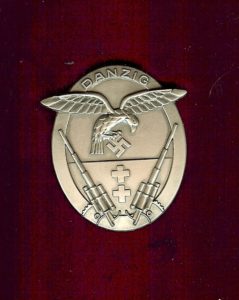 Danzig Flak Badge obverse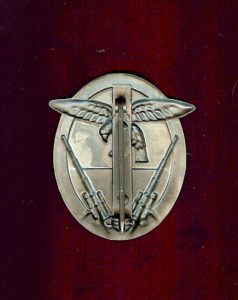 Danzig Flak Badge reverse