Newsletter No. 200, June 4, 2016
Newsletter No. 200, June 4, 2016
The Goering Panzer Division Presentation Sword to Hermann Goering
by Frank D. Thayer. PhD
Copy vs Original
Here we have a picture of the so-called "Göring Panzer Sword."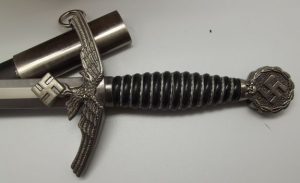 This replica is made in China and it, and a fake dagger entitled, " Göring Panzer Dagger" is also made in the same country. These sell in auctions and on websites stuffed with other similar  fakes, for large sums of money.
These copies are based on an original piece manufactured by the German sword and dagger maker, Stöcker Stahl- und Metallwarenfabrik GmbH & Co. KG ,(SMF) and paid for (RM 250-) by the staff of the Hermann Göring Panzer Division by Oberst Ewerth via Oberzahlmeister Hoffmann (see pictures below)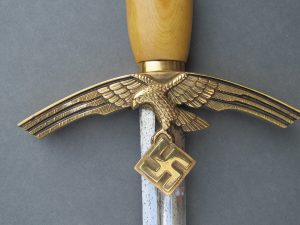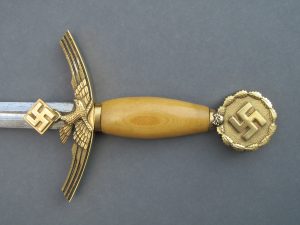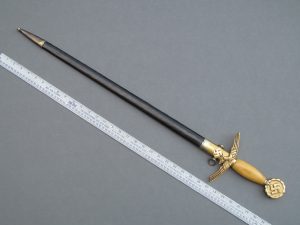 This sword, from a private collection, was designated as a presentation by the Panzer divisional staff to Chef der Division, Reichsmarshall Göring.  Delivery was made to the Divisional headquarters in Italy on 18. Juli, 1943.  In shape it closely resembles the so-called Wedding Sword made up in 1935 by the Solingen-based firm of Carl Eichhorn for Goering when he married Emmy Sonnenmann.
Also note that the eagle on the cross guard is not found on any issue Luftwaffe sword but is found on the Wedding Sword.
The above sword is 34 ½ inches overall and the grip is aged ivory.  The modern Chinese copy is 38 inches overall.  As Hermann Goering was 5′ 6′ in height, the longer sword would not have been made for him but the shorter one would be correct in size.
It should be noted that when ivory is fresh it always reacts, very brightly,  to the ultra-violet light. As ivory ages, the reaction to the ultra-violet light is far less bright and the more aged the ivory, the darker it becomes when exposed to ultra-violet light. Eventually, when the ivory becomes old enough, there is no reaction to the light. Also, fresh ivory is white in color and old ivory becomes a darker yellow with age.  This ivory hilt has been tested with a black light.  There is no reaction, and the ivory is at least 70 years old.
As with any object of value, provenance is considered to be vital in establishing its authenticity and, to an equal degree, its value.  In this case, the sword in question was given by Goering's family to one Jack G. Wheelis.  Wheelis was born in Mart, Texas, April 22, 1913 and died in Kileen, Texas on May 13, 1954. He served in Germany after World War II and was stationed in Nuremburg during the war crimes trials.
During that period, he became friendly with Hermann Goering and, in return for his courtesies, Goering smuggled a letter out of jail to his wife, asking her to make available to Lt. Wheelis a number of items, including a sword he had put away in a secure place.  This she did and with this sword is a USFET Form No 33 (also known as a bring back certificate) permitting Lt. Wheelis to ship the sword back to the United States as a war trophy.  It is ink-signed by his commanding officer, Major Harold J. Prangle, USA. Wheelis is well-known in the collecting world as having  more authentic Goering items.
Also accompanying the sword is a bill of sale from a Heinz A. von Hungen, MD of Modesto, California who acquired the sword after it was sold by the Wheelis people to a Doctor Julian Milestone of Los Angeles, California, a collector of Goering items, and then sold by von Hungen to the militaria firm of Globe Militaria of Keene, New Hampshire.  This document is also ink-signed.
Placing an accurate evaluation on this unique piece is not easy but the Wedding Sword, from which this piece is copied, sold to a collector for one million dollars.  Though not as well-publicized and not as elaborate,  this piece could easily fetch upwards of four hundred and fifty thousand dollars at auction, especially with the accompanying provenance which the Wedding Sword did not have.
Dr Frank D. Thayer is a published expert on many aspects of the Third Reich, is retired as emeritus as former head of the Journalism Department of the University of New Mexico, Las Cruces, and has been an advanced collector of militaria for thirty years.