Newsletter 253 April 20, 2017
Newsletter 253 April 20, 2017
U-boat Badge with Diamonds Presentation Letter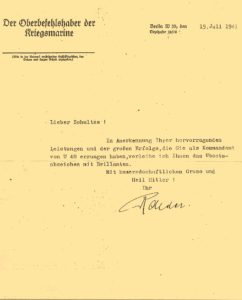 The U-boat War Badge with Diamonds was instituted by Grand Admiral Erich Raeder and was a gold-plated silver version of the U-boat Badge in which the swastika was inlaid with diamonds.
The badge was a special issue award given to U-boat commanders who had received the Knight's Cross of the Iron Cross with Oak Leaves. This version was made of gold plate over silver. It was manufactured only by the firm Schwerin u. Sohn of Berlin and is so marked on the reverse. The badge was the same as the basic pattern but with nine small diamonds inlaid in the appliqued swastika.
Original badges with diamonds were made only by Schwerin and 28 were awarded.
There was no award certificate for this badge but a covering letter signed by Eric Reader as CIC-Kriegmarine or later, by Karl Dönitz.
Recipients of the U-boat badge with Diamonds
Albrecht Brandi
Heinrich Bleichrodt
Otto von Bülow
Carl Emmermann
Engelbert Endrass
Friedrich Guggenberger
Robert Gysae
Reinhard Hardegen
Werner Hartmann
Werner Henke
Otto Kretschmer
Hans-Günther Lange
Georg Lassen
Heinrich Lehmann-Willenbrock
Heinrich Liebe
Wolfgang Lüth
Johann Mohr
Rolf Mützelburg
Karl-Friedrich Merten
Gunther Prien
Joachim Schepke
Adalbert Schnee
Klaus Scholtz
Viktor Schütze
Herbert Schultze
Reinhard Suhren
Rolf Thomsen
Erich Topp